Sorry, but it is true, computers are not always 100% honest.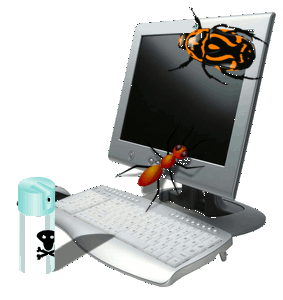 Of course, this may not be true of your mom, best friend and significant other, but your computer may not always be honest. Now wait, before you get too accusatory with the machine; consider that it may be acting against its will. If it is, it is likely due to malware. Want to know what malware is, who is its intended target and what can be done about it? Read on.
Malware
is short for
malicious software
. It is software that runs on your computer or software-controlled device with the intention of doing any of one or more of the following:
steal personal information stored or typed on a computer (Trojans, spyware)
steal or borrow system resources
gain unauthorized access to resources on other machines
disrupt or otherwise modify normal computer operation of its host machine or other devices on a network
scare or threaten future or more serious attacks (scareware)
automatically plays, displays, or downloads advertisements to a computer (adware)
annoy the owner of the infected device to no end and many other undesirable or malicious things
To enumerate the number of
intended targets
of malware would be a task. The best way to describe targets is in general terms of groups of targets. For example, the following chart lists a target and an example of each type. The point, however, is to note that the list of non-targets would be much shorter.
| Type of target | Examples | Notes |
| --- | --- | --- |
| Operating Systems | Windows, Linux | Any operating system can be the target of at least one type of malware |
| Social Platforms | Facebook | Malware best spread through social engineering |
| Mobile Platforms | Android, Apple | &nbsp |
| Packages | Adobe | Targeted due to popularity and ubiquity |
| Utility control systems | US Power grid | In 2010 a Trojan was created to attack a utility control system running Siemens' Simatic WinCC or PCS 7 software. |
| Blogging Platforms | Wordpress | &nbsp |
| Investment firms | &nbsp | Mostly in China, but one large well-known firm in New York |
Not listed, but obvious are gaming sites and online stores. In fact, potential targets range from personal computers to commercial networks, schools, government facilities and many, many more.
How serious is the threat?
According to the latest Internet Security Threat Report published by anti-virus company Symantec, there were ". . . . more than 286 million unique variants of malware, which together were responsible for 3.1 billion attacks on computer users in 2010." Okay, so now you are pretty peeved at makers of malware and you want to know what can be done about it right? So as to not give everyone tired-head, we attempted to boil this stuff down to a few simple facts. This is not intended to be a training guide for technical professionals. Even though, if you do not want to attempt to navigate the malware universe of Trojans, worms, scareware, adware, spyware, crimeware or rootkits, let us be your guide.
The best defense against infection is education.
Beyond education, here is what we can do to help: For individual computer owners, home networks, home offices and commercial networks, we can:
Detect, remove and repair infected machines, remotely or on site
Perform routine maintenance and network audits to ensure networks assets are free from new threats
Provide network users with educational resources to prevent unauthorized system access resulting from social engineering, such as phishing.
Provide monthly scorecard on company's threat levels for management
Be your peace-of-mind providers when it comes to healthy computer resources
Allow us to be your resource for malware detection and removal. If you are uncertain about your threat level or feel you have infected resources, do not hesitate to call us today!