Professional, reliable and affordable solutions that will meet your low-voltage wiring needs.
TheraP.C. offers low-voltage wiring and installation services that will fit your home, home office or commercial needs. We will never compromise your network solution with poor installation materials or procedures. The infrastructure of your network determines its reliability, performance and sustainability. Whether you have an existing network or a new construction site, consult with us and we will help you design the best possible solution for your low-voltage needs.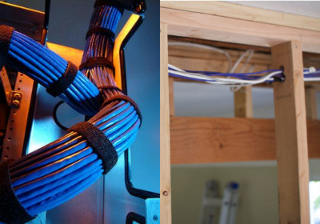 Low-voltage wiring is necessary in the following applications:
Computer networking for homes and business
Coaxial cable applications
Data servers
Audio-visual conferencing
Telephony services
Video networks
High-speed internet access
Network design, adds and modifications
At TheraP.C., we never underestimated the importance of a reliable network infrastructure. In the planning phase, we ensure the most efficient and durable design of your network. This results in trouble free operation for many, many years. Once established, we can monitor and maintain the performance of your network or other wired installation to give you peace of mind. See our Networking and PC Services pages for additional details.
Concerned about how invasive the installation process is? Don't be. Our professional technicians work with the highest quality tools and materials and employ best-in-class procedures to ensure the cleanest and least intrusive installation. Both our in and out-of-wall installations are clean and precise, in some cases, taking less than a day from start to finish.
We will also design your project with the future in mind. If you need the ability to expand but want to maximize your current project budget, let us help. We can design your low-voltage wiring solution with your future plans of expansion in mind without destroying your budget. You don't have to build your network for the future, but we can help you design it with the future in mind.
Contact us today and let us know how we can help with your low-voltage wiring needs.